Four weeks ago, during the induction week, PSE volunteers travelled to Sihanoukville – one of the most touristic destinations in Cambodia, after Siem Reap, due to its proximity to the beach – for a training session. While most of them came back to Phnom Penh after the training, about 20 of them stayed there, not because of its nice weather and its countless beaches, but because there are two PSE camps settled there. Far from PSE Phnom Penh but loyal to its spirit and values, life in Sihanoukville in somehow very similar but very different too. An experience worth being lived.
WHY HERE IS DIFFERENT
Rain. Only rain. During the whole day! Where are the sun and the beach? "It is a pity we couldn't go to the beach", says Ana Llinàs, coordinator of Sihanoukville CSC. The kids love to go to the beach, and so do monitors.

"One day, it was raining a bit, but we decided to go to the beach anyways," says Paula, doctor in Sihanoukville Central and Community Service Centre during the School continuity Program. "Then it started to rain heavily, but the kids had a lot of fun," she adds, her eyes shinning as if she was reliving that moment in her mind, "and when the sun gets out they go swimming." At this moment, monitors go with the kids in the water, and form a human chain to mark out the swimming area. That is because some of the kids never went to the beach before and they don't know how to swim, says Ana Ena, the coordinator of Sihanoukville Central Camp– both European coordinators in Sihanouville are called Ana –. And so, some kids come to the camp because they want to go back to the beach with them.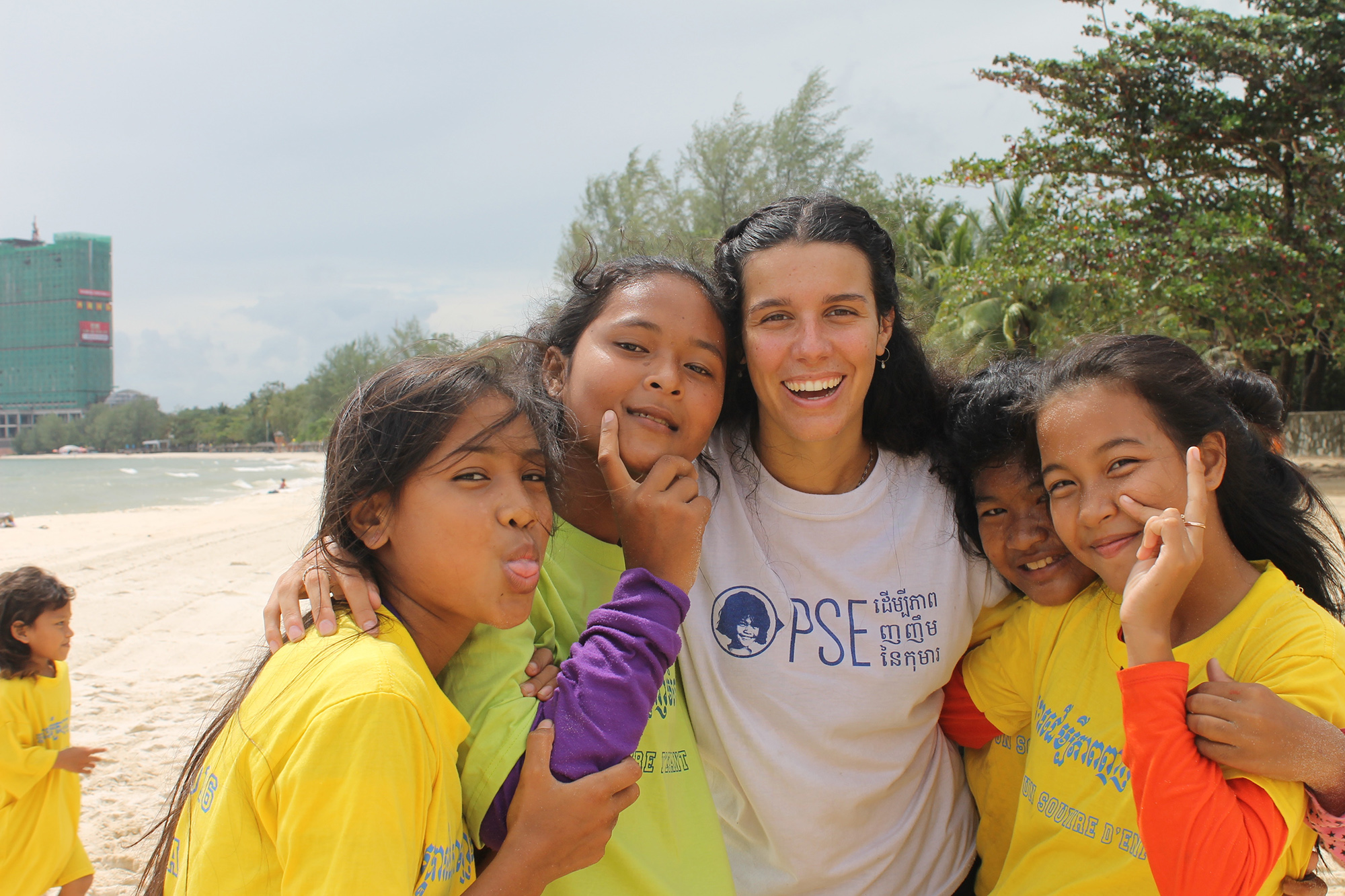 "Some of the kids never went to the beach before and they don't know how to swim, even though they have been living near the sea their all life."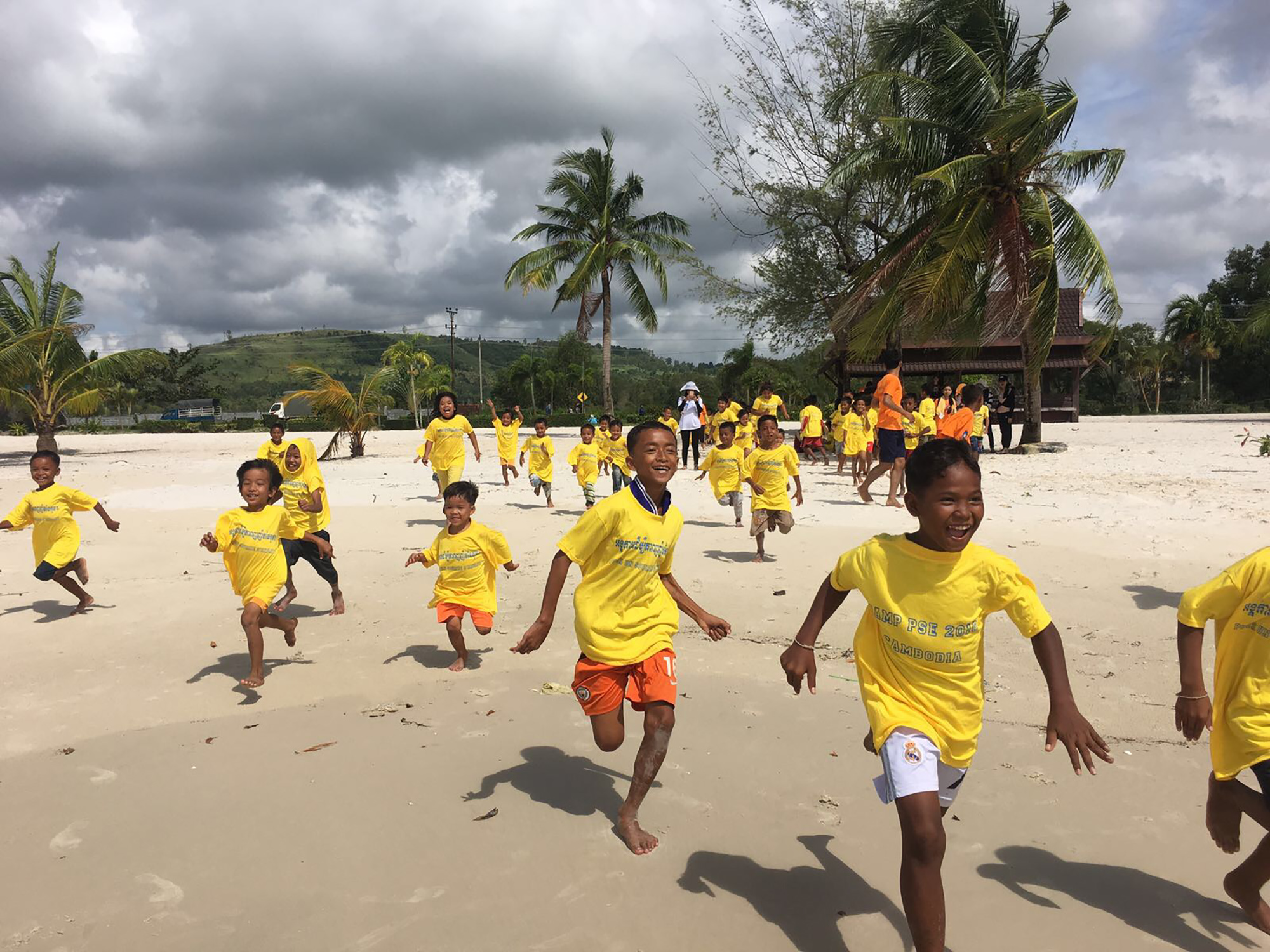 The beach is a little paradise for these kids who go there, "dressed as mignons", with PSE yellow t-shirts, too big for them, falling on their knees – kids love wearing PSE t-shirts, as they are much cleaner than their own clothes. Sometimes they actually loose their clothes, which they took off during the shower or at the beach and didn't find after among their fellows' clothes, so the monitors give them yellow t-shirts, and they get so happy! Kids love spending time on the beach, building sand castles, or simply meditating: meditation on the beach is a new activity this year, and it works surprisingly well! Kids are very concentrated. Maybe because they can actually think, during that time, of how happy they are to be here, at this moment? 
"The camp never stops when it rains."
ALWAYS READY FOR THE KIDS
But this morning, like a few other morning during the last week, the sun hides behind hideous clouds and rain falls on the camps. European and Khmer monitors meet after breakfast, still a bit sleepy, but with a smile. Here, in Sihanoukville, European and Khmer monitors live together, and so they get to know each other much better than in Phnom Penh, for instance, where Khmer monitors go back home after the day. "It is intense," says one of them, "but in same time, great experience. One day we cook Khmer food for diner, the other is European." And they compare. Even if European diner is good and consistent, Khmer will have rice aside, because they are used to eat it in every meal.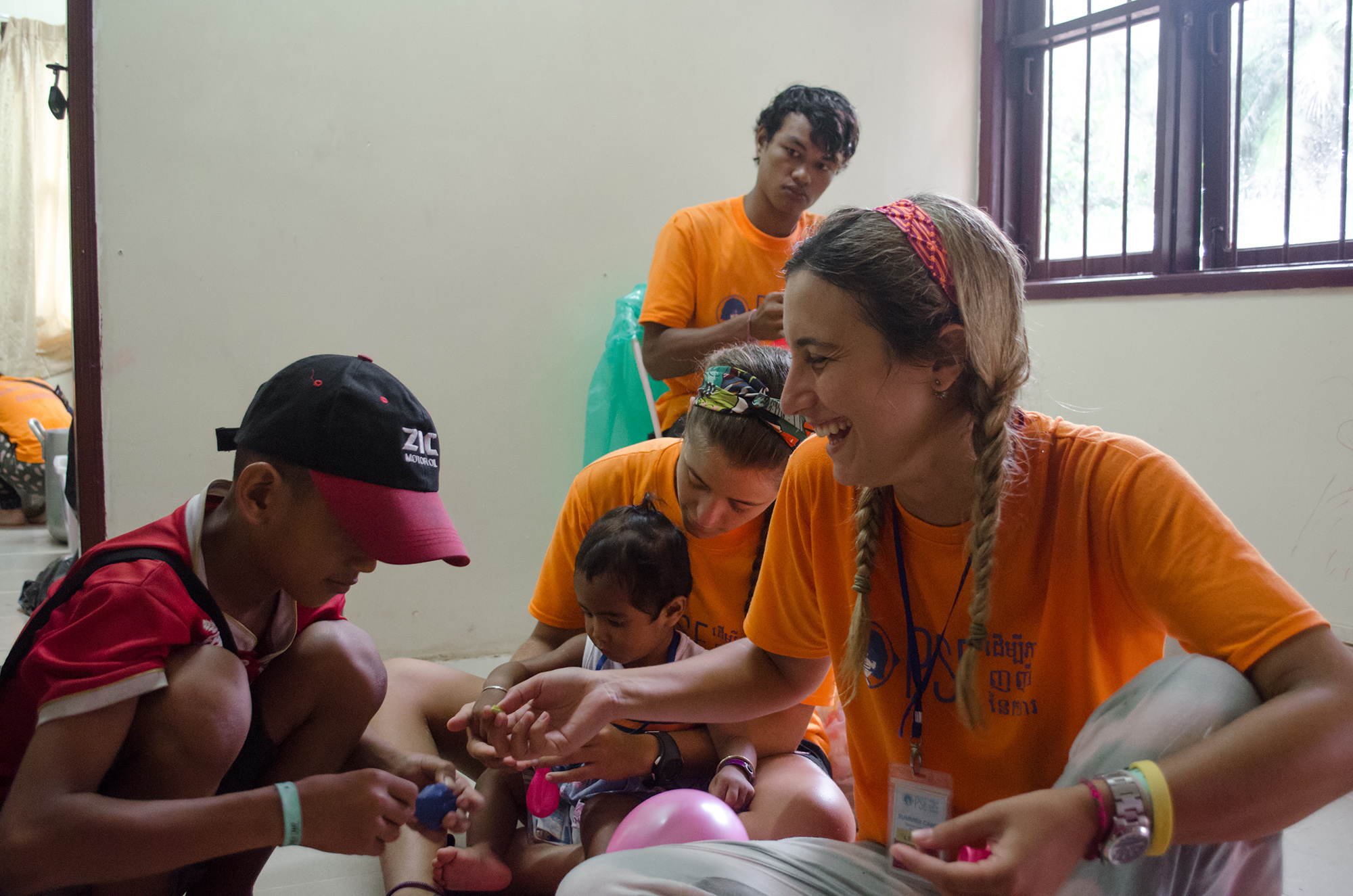 "The camp never stops when it rains", says Paula, "normally, we would go to the beach but, with that weather, we will do inside activities. We don't want to risk kids getting sick." The main concern of the monitors is not the fact that they will not go to the beach, but that fewer kids came this morning. "This is because of the rain," says Paula, "when it's raining, parents keep their children at home to help with chores. But we sent a truck with monitors and Social Team members to go to their villages." And this worked. When in their villages, monitors sang PSE songs, met the families, and asked them if they could take the kids to the program. Finally, they came back with 40 more kids.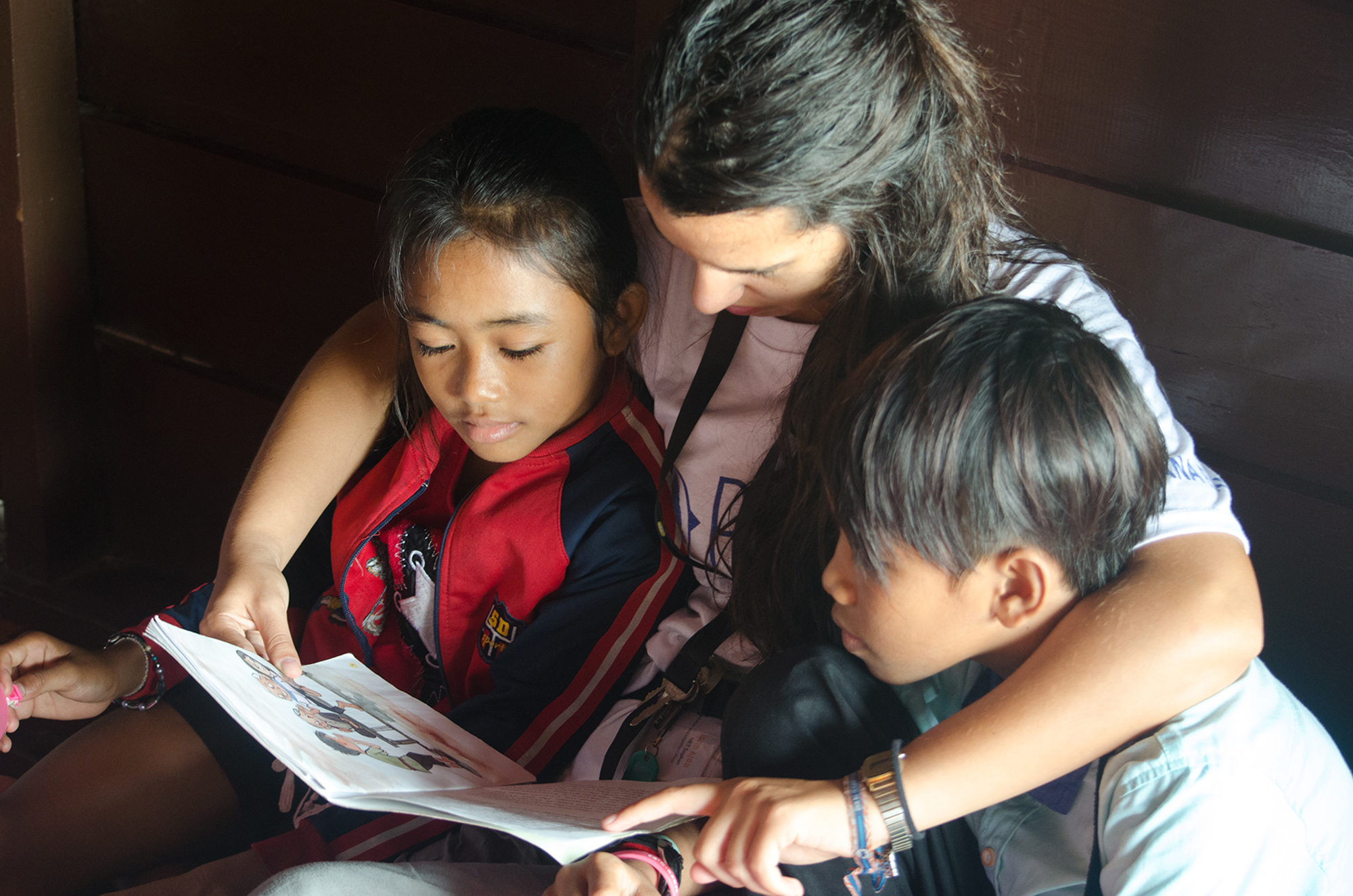 Kids love to come to the nursery, maybe because someone is taking good care of them, and that doctor is also really kind to them. Paula listen to them, rummages around in her big nursery box, pulls out some magical flasks and a bandage, explains to them why they did well coming and avoided any type of infection, and kids get out with a smile. Every member here gives a hundred per cent to make this month of August special for the kids. Carlos shows proudly the Sihanoukville Central flag, painted by the kids: "when they painted it," he says, "they tried to show us that PSE is their home."
OH, HOME!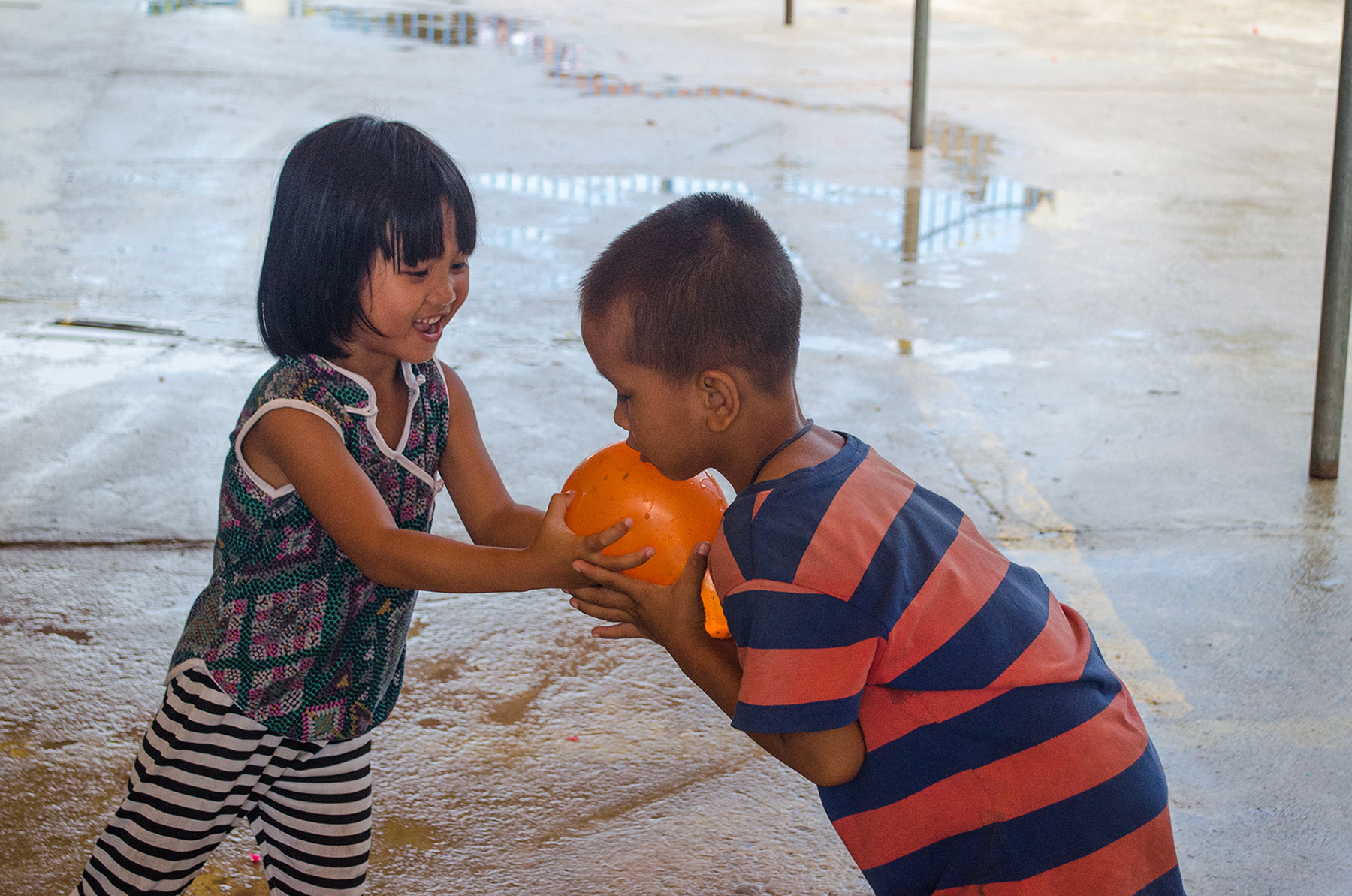 "Some of them have been coming here for years, " says Ana Ena, "and now I know them well," she adds, "I know where they live." She also enjoys living in the same place with all Khmer and European monitors. Meanwhile, outside, under a large awning that protects them from the rain, kids are playing with inflatable balloons tightened to their ankles, trying to pop their adversaries' balloons with their feet. Some others, standing in circle are passing water bombs from hand to hand without dropping it. But, inevitably, someone lacks of care, the balloon explodes, and the game becomes a mess where kids throw in each other face water bombs, or send them as high as possible in the sky, trying to catch them when they fall back. Here, every competition comes with a dancing battle between the supporting teams, fighting for the noisiest position.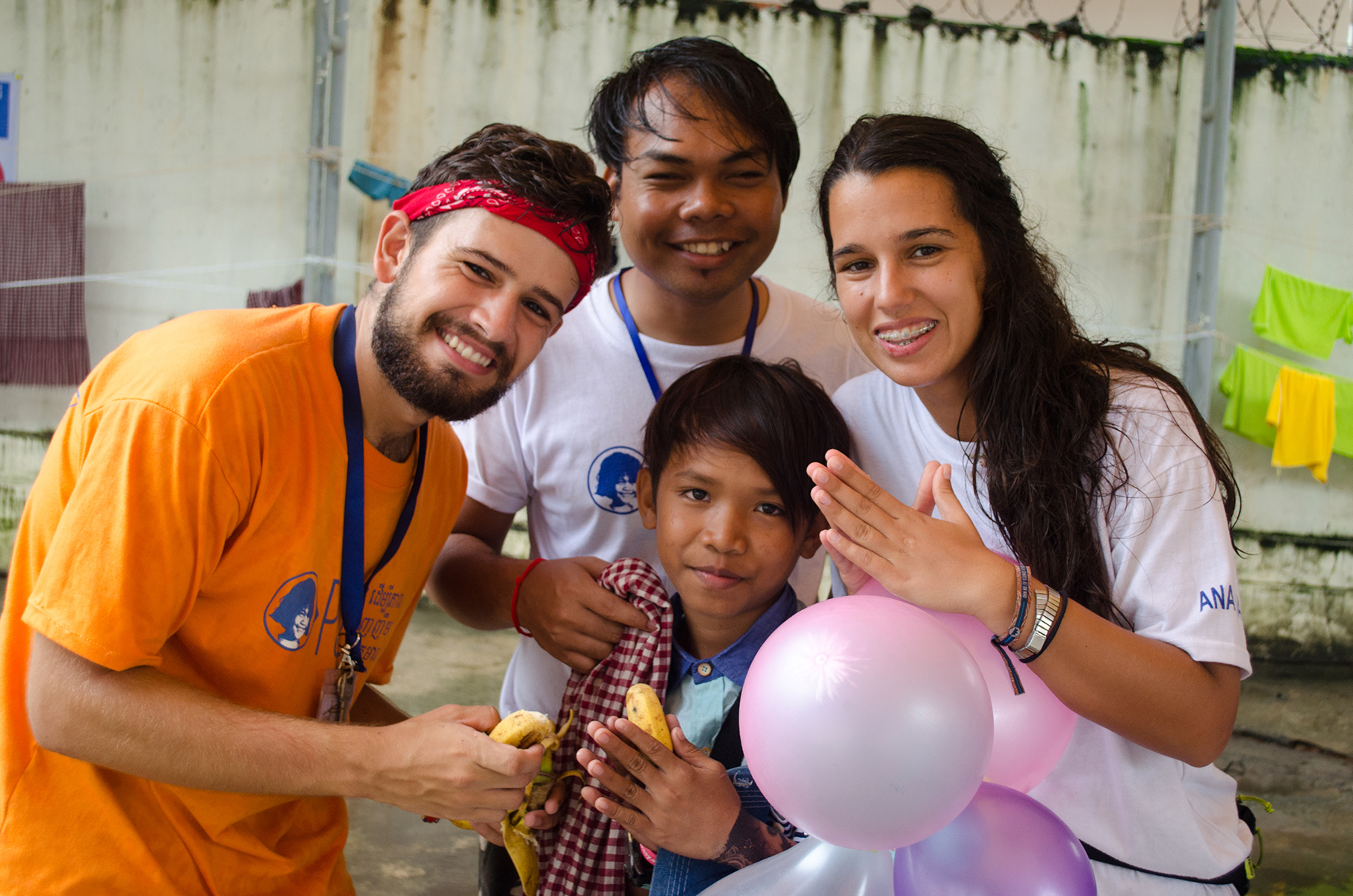 "We have everything here, except rats, which is a good thing!"
Sihanoukville CSC is not very far from the Central Camp – it only takes about 15 minutes drive to go – and is located just between the beach and a train station. If you come from the road, you will have to cross, by foot, the railway. Often, a train is parking just in front of it, and kids and monitors have to climb between wagons to reach the other side and enter the camp. Most of them live around, and walk to the camp.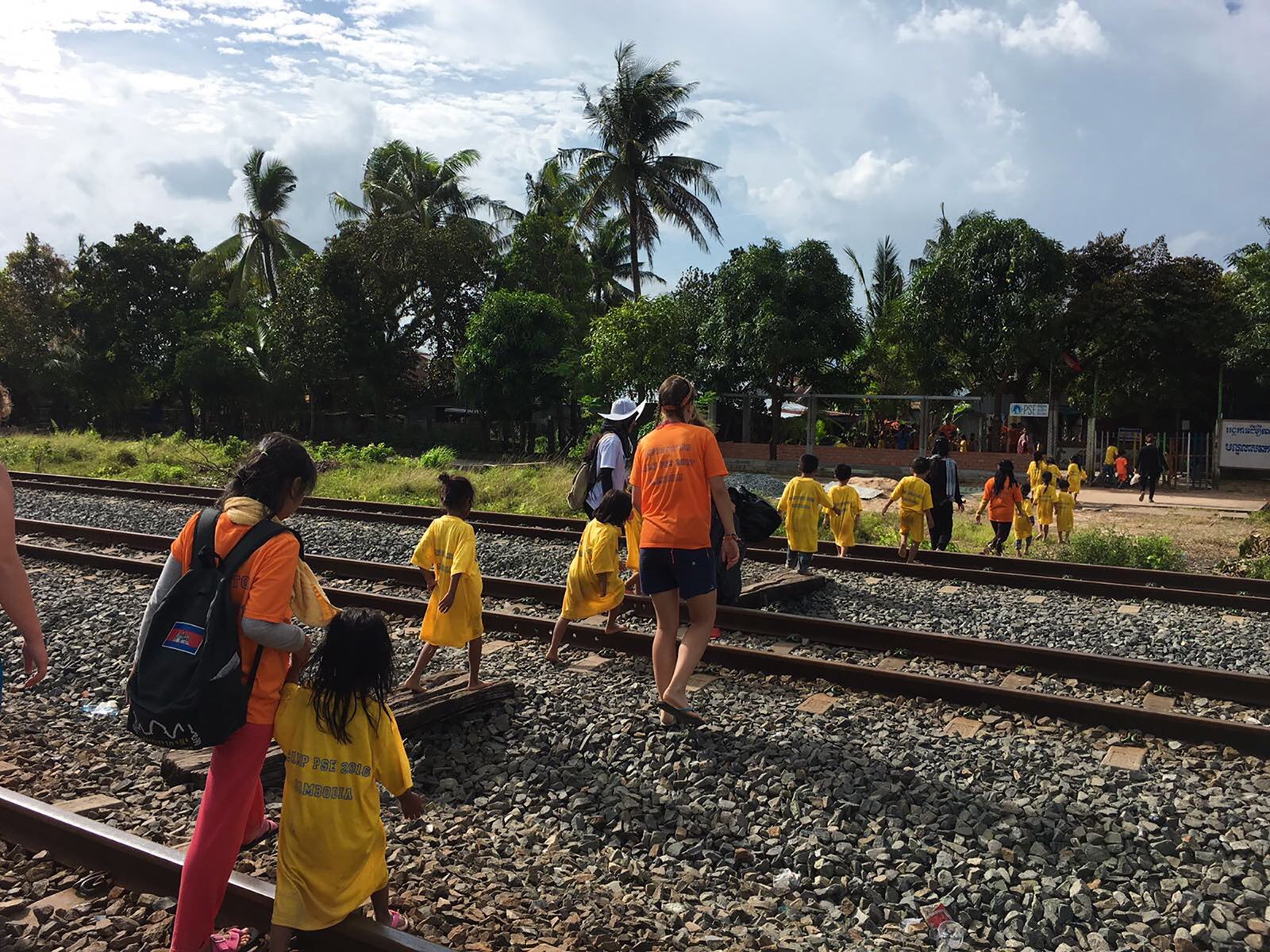 Among them, a team of six brothers and sisters of a family of eleven siblings. They are the kids of a merchant, whose store – where monitors buy iced coffes, or "tek deko teko" in Khmer – is located just in front of the CSC. They are very well educated, polite, and take care of each other. Kim Hay (11y old), the oldest, only comes in the afternoon, as she has school in the morning.
"There are hens and roosters in he courtyard," says Ana Llinàs, "which belong to the owner of the CSC. She lives in the same building, above the classrooms, and so we cannot get them out." Kids, monitors, chicken and dogs live peacefully together here, like in a farm. There are even some non-identified birds: "I don't know what this bird is" Ana adds, "we have everything here, except rats, which is a good thing!"
ACTIVITIES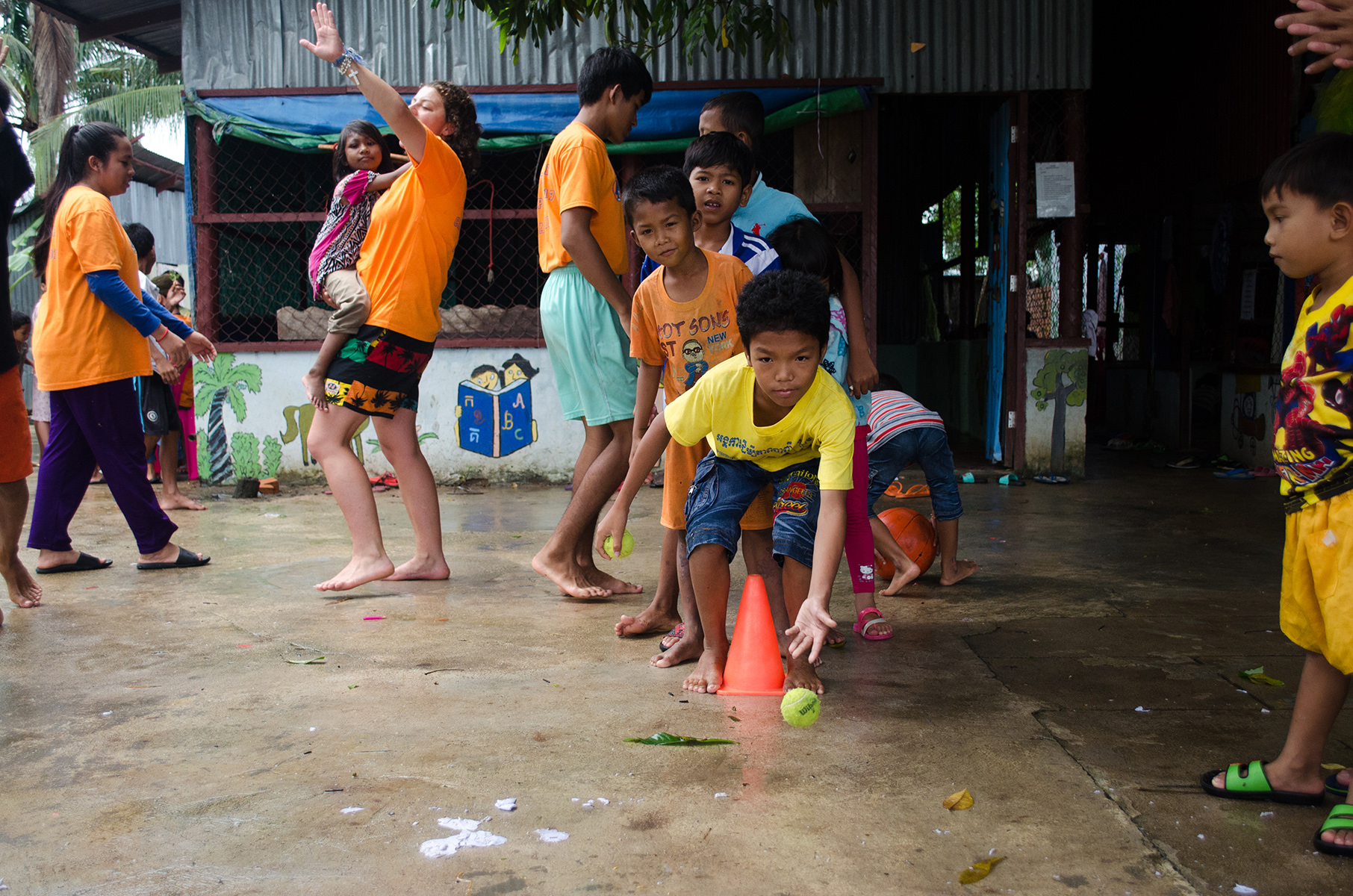 As mentioned above, when they are on the beach, kids enjoy mostly the free time, where they can go and swim, or built sand castles. The beaches provides them with everything they need to have fun, why adding rules to the game, after all? On a day like this one – a rainy day with a dark grey sky – activities happen inside the camps, and monitors need to prepare them even though, in some cases, kids will enjoy the "no rules" rule as well: the free activity of drawing. Kids only have white shit of paper, colours pens, and the only rule is their imagination! "Usually, kids reproduce what they did or saw in the morning," says Ana who now sounds like a – very friendly – school director, "that means they have learned something. We try to make the camp fun, but educational."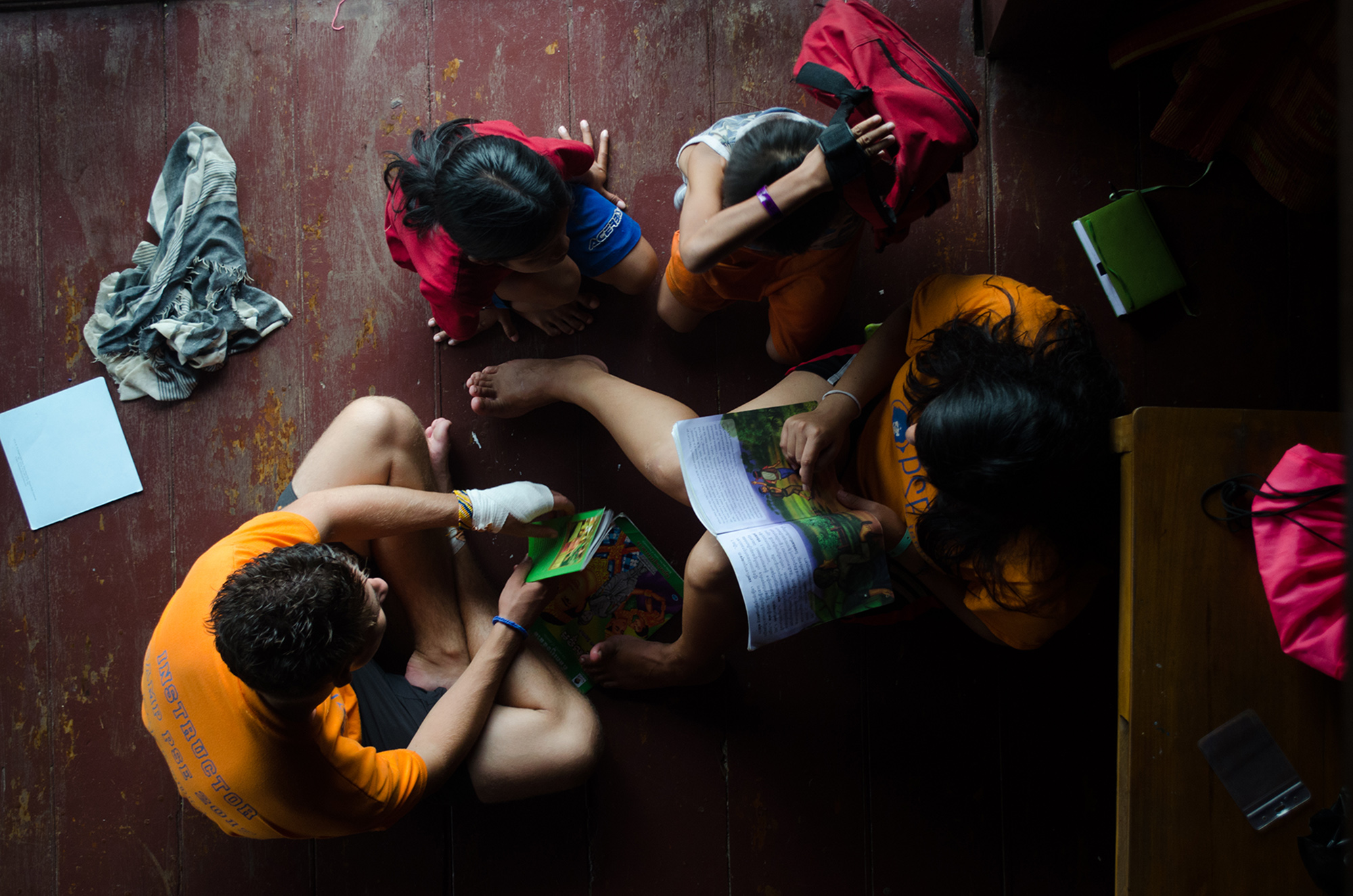 "Here, were organise as many ferias and big games as we can," says another monitor, "because little kids get easily distracted and don't like to do the same activity for long." This afternoon, in both camps, monitors organized both indoor and outdoor activities, inside the camps.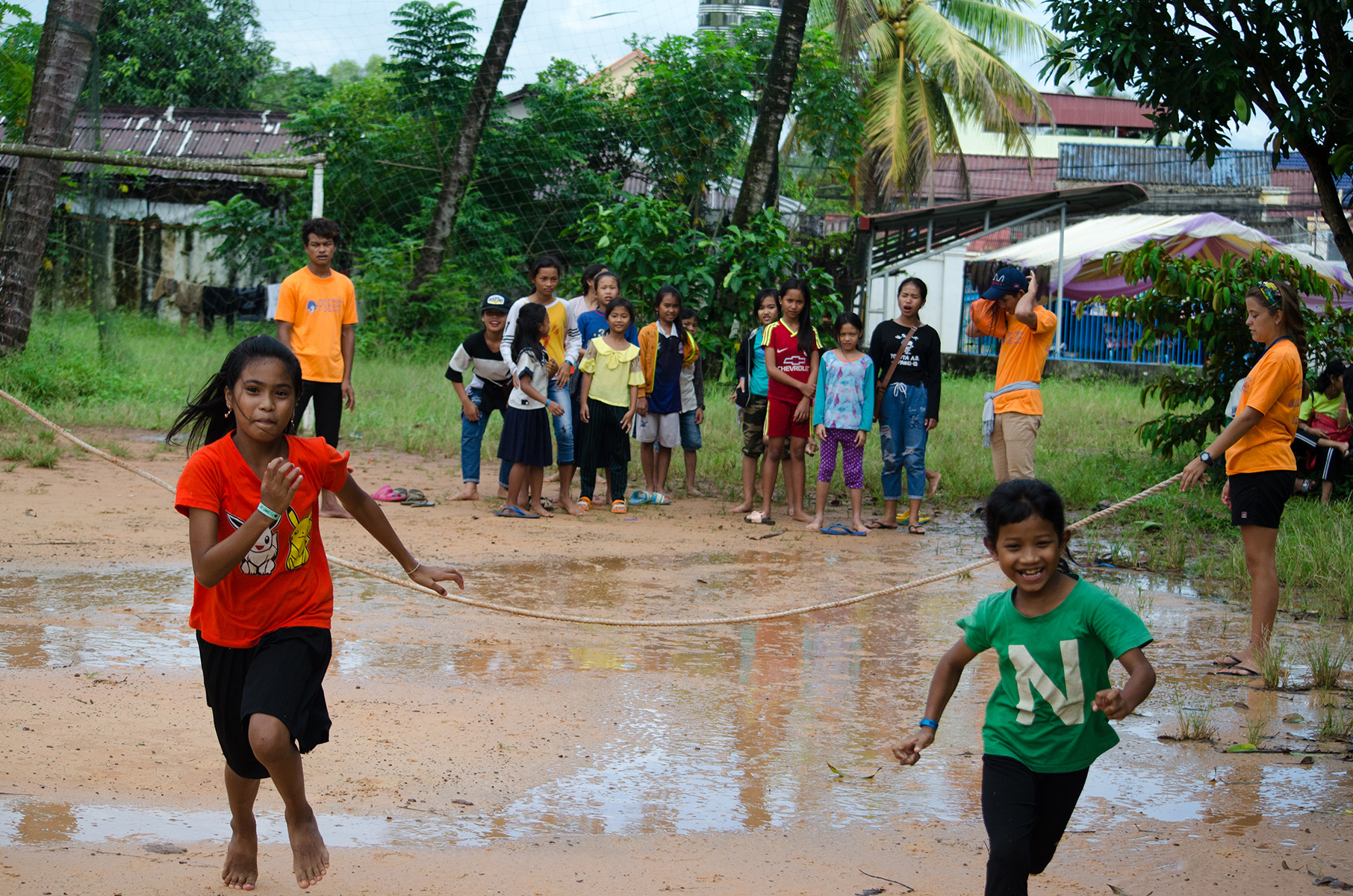 Today is Monday 21 August, and Wednesday will be the last day of the School Continuity Program. And you can feel it. Behind all the joy and energy of the monitors, you can feel some sadness, the feeling that the camp went too fast. Kids will realise it in two days, now that they are going back home, a smile on their face, they only think of tomorrow, which they will spend here again. Monitors try to capture pictures of these last moments with these kids, already thinking about next year…